Personal Training at BFE
+ MOBILE or ONLINE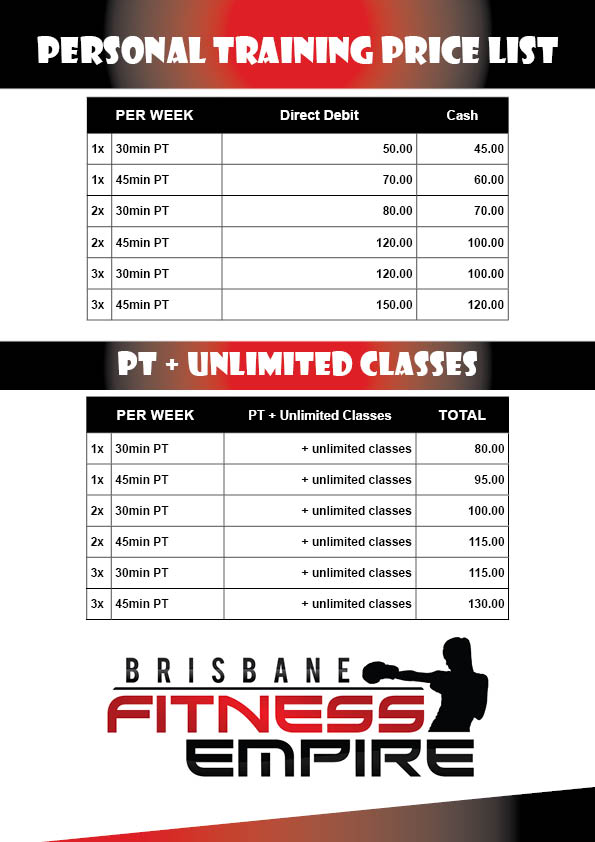 How would you like to train?

We offer three types of personal training sessions…
at our studio in Stafford
in the comfort of your own home with our mobile trainer Jess
online via Zoom
What is mobile PT?
Jess, who is one of our fantastic trainers will come to your home and train you. She can cater for your needs and help you reach your health and fitness goals. If you are interested in kickboxing, Jess can also hold pads for you!
What is online PT?
Thanks to Zoom, which is a free app you can download and take anywhere, we are able to train you live. You can train anywhere and in any state. So if for example, you would like to do a body weight HIIT session during your lunch break, you can head to a beautiful park and we can train you live.
How to train in our studio, Brisbane Fitness Empire?
Easy! Contact us as soon as you're ready to start making positive and lasting changes to your health and fitness goals. We aim to fit around you and your schedule, making life simple. You are welcome to mix and match sessions. For example, you may like to do 2 sessions a week in our studio and 1 mobile session. Let us know what works for you!

Here are a couple of words Personal Training clients used for summing up their sessions.

"Fun … exciting … challenging … rewarding … friendly"

"Challenging…rewarding…strong…exciting…fantastic!"

Contact us TODAY & get started NOW! Why?
"Excellence is not a singular act but a habit. You are what you do repeatedly."

Give us a call on 0424 382 697
Email us via brisfitempire@gmail.com
Visit us at 3/37 Windorah St Stafford 4053
Click HERE for our personal training terms & conditions