Crystal and Mick are easily the best trainers I have worked with in years. Lots of variety between sessions, great motivation and they are amazing at working with people who have injuries. These guys keep me the most motivated I have been in a long time and only 2 weeks in I may be sore but I am already seeing results.
Seriously, give them a go, you will love it!
Keely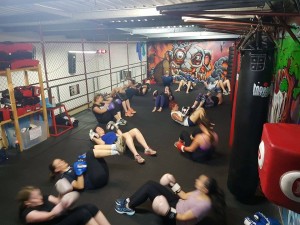 Joan Welsh said "A man's health can be judged by which he takes two at a time – pills or stairs". 
Before BFE I was a 'pills man' but now I can bound up and down  stairs.  Crystal's 1hr morning boot camp sessions are not only a great start to the day, but a fun way to 'get back into' a fitness regime.  The 1hr evening kickboxing training sessions take it to the next level. 
Thanks very much Crystal and Mick- awesome trainers!  I thoroughly enjoy 'sweating it out' each week with a  great bunch of people.
Greg!
I came to Crystal because I didn't like working out in the gym and I was looking for more "umph," something closer to martial art training…and I found what I was looking for. It's been great sessions and I cannot stop!
Suzi Karim!
Crystal has been training me for some months now and I can honestly say I've really enjoyed the classes and personal training sessions. We have a good laugh and always do different exercises which keep things interesting. As a newby to the concept of fitness I'm really enjoying the changes in the way I feel. At this rate I'll be fitter than I've ever been before. As a non-sport person this new sense of energy and fitness is an exciting adventure for me. Great stuff.
Jenni!
click HERE to see the video of Suzi at the beginning of tackling her hill challenge
Suzi Mclennan-Lyon's journey to her new healthier & happier life
Suzi hesitantly & nervously came to Brisbane Fitness Empire in April 2017 to take on the challenge of losing weight & changing her mindset towards exercise & healthy living.
Suzi has been good friends with the owner of Brisbane Fitness Empire, Crystal for around 3 years, but just couldn't ever imagine herself stepping into the gym for exercise. She stepped in for lots of catch ups & giggles, but the thought of actually training was just too daunting.
One day while having a long overdue catch up with Crystal, she decided, stuff it, it's time to do it. She knew she could trust Crystal & she would take good care of her.
So the journey began…10 weeks was the first challenge
First session we measured and weighed & numbers on the scale were over the 100kg mark which was a little sad, but who cares, that's the past. The exercise routine was very basic, pelvic floor work & stretching. Suzi left feeling great. She had finished her first session & survived!
That same week Suzi came to the 6pm stretch & core class where she met a group of wonderful like minded people.
Week one done & dusted. This motivated Suzi to walk to work & to her training sessions.
Week two boxing! Suzi always wanted try the sport…well she did & loved it.
Fast forward 10 weeks…her ultimate challenge was to walk up Matthew St in Stafford. A very nasty mini mountain (ok so it's a steep street). The following videos are Suzi conquering a street that she couldn't even walk a few meters up 10 weeks ago.
Weigh in…not much in terms of kilos lost, but she had lost 4cm around her stomach & a considerable amount around her face.
Whoo hoo!
And…it has taken her this time to be able to reach and touch her toes in the stretch and core class, which was also a goal she made in the first couple of weeks.
The next 10 week challenge was set June 2017. By now Suzi knew that she could actually enjoy exercise & wanted to push harder.
The plan…Mon & Wed 30min personal training session with Crystal, Tues night boxing class with Mick & Thurs night stretch & core class with Crystal. Suzi has now gone on a 1 week cruise & is currently on a 1 week holiday.
So the person who was horrified at the thought of exercising, exercised nearly every day on her cruise…in the gym provided, all by herself. What is she currently doing on her holiday? She climbed Jacob's Ladder in Perth, has walked around & explored the botanical gardens & walked everywhere she could. Not on her own either, she has dragged her mum along on her adventures.
When she gets back, Suzi will continue her 10 week challenge. Watch this space for her updated progress.
"Fun … exciting … challenging … rewarding … friendly" Deb
"Challenging, rewarding, strong, exciting, fantastic!" Sammy