Brisbane Fitness Empire is owned by Crystal Gibson who is both a qualified personal trainer as well as an undefeated Muay Thai Kick Boxer & Tournament Fighter.
To train at Brisbane Fitness Empire you don't have to be a member of the gym…in fact we have…
NO contracts, NO membership, NO joining fees, NO hidden fine print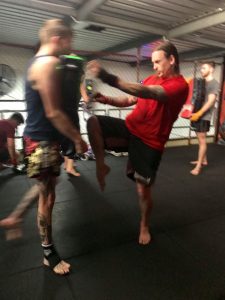 CLASS TIMES AND PRICE LIST
Click here for a description of what you'll be doing in each class
Monday
5-5.45pm ~ Teen Girls Kickboxing
6-7pm ~ Muay Thai Kickboxing
Tuesday
4-4:30pm ~ Kids kickboxing
6-7pm ~ Kickboxing & Fitness
Wednesday
6-7pm ~ Muay Thai Kickboxing
Thursday
8.30-9.15am ~ Stretch & Core ONLINE VIA ZOOM – contact us for details
4-4:30pm ~ Kids kickboxing
6:30-7:30pm Beginners Muay Thai Kickboxing
Friday
6:30-7:30pm ~ Kickboxing & Fitness
Saturday
8.30-9.30am ~ Kickboxing & Bootcamp
For more videos on how to do kickboxing, click HERE
We are opening up an EXPRESSION OF INTEREST for our upcoming class: LADIES BOOTCAMP AND KICKBOXING!
This is DESIGNED for ladies who are keen to get fit, yet haven't been able to due to work and family priorities. Let this class be MOTIVATION to work out in a new, dynamic and exciting way. Our class offers unique ways to do bootcamp as well as beginners kickboxing for our fun cardio work to get energized for the day.
We are going to open this class sometime during mid March. If you are interested or know someone who might be, feel free to let us know what times and days would suit.
CLASS PRICES
$10 for kids class
$12.50 for teen girls class
$15 general class
$125 for a 10 pack of adult classes, SAVE $25 (can be used for any class)
$45 p/week for unlimited classes
* 10 pack class sessions have an expiry of 12 weeks from first session used.
* 10 pack class sessions that don't get started have a 6 month expiry from date of purchase.
Borrowing our gear
You may borrow our gloves 1 time ONLY and you MUST wear inners/white glove inserts
If you don't have inners, that's ok, we sell them for $5
You may borrow the thai pads, focus mitts and kickshields 3 times before having to purchase your own gear
We do sell all the gear you need to train in our classes, at a very good price. Our prices are cheaper than most places as we have always preferred you to have your own gear.
If you have your own gear you must take it home after each session and clean it
If you're unsure if kickboxing is for you, why not try out our self paced online course first! Once completed you will receive 1 week of FREE classes to test out your new skills
OR
If you aren't ready to come to us, we can come to you!

Jess is our MOBILE PERSONAL TRAINER, who can come to YOUR HOUSE and hold PADS for you and teach you how to do KICKBOXING 
PT & UNLIMITED CLASSES PACKAGES
Click on image to enlarge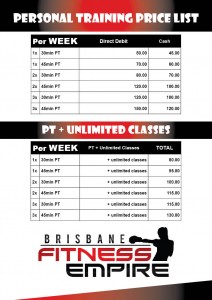 * Bulk purchased Personal Training sessions that are not used will be forfeited & have a 6 month expiry from date of purchase.
** Gift certificates are also available.
Contact us TODAY & get started NOW!
Ph: 0424 382 697
Email: brisfitempire@gmail.com
Address: 3/37 Windorah St Stafford 4053