Latest TIMETABLE as of 1/5/18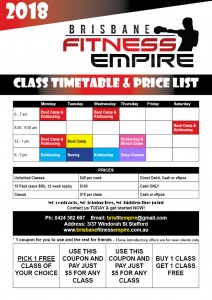 New classes as of October 2016:
Tuesday 12 – 1pm
Go to http://brisbanefitnessempire.com.au/pricing/ for prices 

6-7pm on a Thursday night we have a new, new class

This will be a stretching & core class.
ANYONE can join in on this class. You don't have to be currently exercising to be able to stretch your muscles & strengthen your core.